Science Fiction Storycrafter
Now Available in Both Paperback and Ebook:
PROTECTOR OF THE REFUGEE PLANET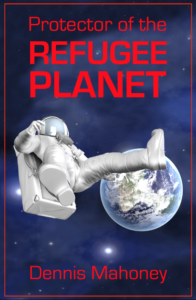 Steven has a routine assignment for a vigilante of the thirtieth century. All he has to do is defeat eight mobsters pointing guns at his face, and do it bare-handed. But then, he violates one of the sacred precepts that govern members of the Community of Protectors—he takes a human life, prompting the Community's long-dead founder to reproach him in a series of visits from beyond the grave. Steven's superiors offer him a second chance to prove himself worthy to serve as a Protector. They order him to engage in hand-to-hand combat against a murderous alien creature, half man and half bird. He must conquer the creature without killing it, or face expulsion. Sheera, a teenaged psychiatrist, is determined to rid him of his ghostly apparitions, which she insists are all in his head. Another precept forbids Steven from loving her, but keeping his feelings for her in check may be even more difficult than overpowering the monster.